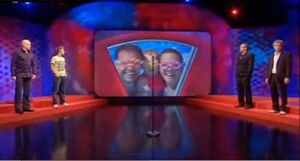 This is the list of topics for the Mock The Week round, Spinning The News.
    

– Game won by Hugh and Frankie's / Hugh's team.
    

– Game won by Rory's team / Andy's team / Andy and Russell's team.
    

– Game tied.
#
Name
Topic &
Panellist
01x01
Wheel of News
Michael Howard
Rory Bremner
Education
Frankie Boyle
ASBOs
Linda Smith
ID Cards
Jeremy Hardy
The Nation's Health
Hugh Dennis & John Oliver
01x02
Stand Up, Sit Down
Climate Change
Hugh Dennis
Live 8
Rory Bremner
Reality TV
Jo Brand
The London Olympic Bid
Mark Steel
The United States
Andy Parsons & Frankie Boyle
01x03
On the Spot
David Blunkett
Rory Bremner
Transport
Frankie Boyle
Charity
Jo Brand
Crime
John Oliver
Europe
Hugh Dennis & Al Murray
01x04
Topical Roulette
Crisis on the Road
Hugh Dennis
African Debt
Linda Smith
Ken Clarke
Rory Bremner
Education
David Mitchell
Gay Rights
Andy Parsons & Frankie Boyle
01x05
Spinning the News
National Survey
Frankie Boyle
The Trafalgar Celebrations
Rory Bremner
Diana
David Mitchell
Obesity and Diet
Hugh Dennis & Jo Brand
02x01
Stand Up, Sit Down
Alternative Energy Sources
John Oliver
The Unfit Society
Jo Brand
War on Terror
Andy Parsons & Frankie Boyle
02x02
Spinning the News
The Ageing Population
John Oliver
Tony Blair's Respect Agenda
Gina Yashere
Living with Terror
Al Murray & Frankie Boyle
02x03
Carousel of News
Creationism
Hugh Dennis
Obesity
Sue Perkins
Science and Innovation
Andy Parsons & Frankie Boyle
02x04
360° of News
The Environment
John Oliver
The Royals
Frankie Boyle
Smoking
Hugh Dennis & Andy Parsons
02x05
Round and Round and Round it Goes,
Where it Lands do Some Jokes
The Future
Frankie Boyle
George Bush
Greg Proops
Crime
Gina Yashere & Andy Parsons
02x06
Le Cercle de L'actualité
Sport
John Oliver
Charity
Frankie Boyle
Hospitals
Jeremy Hardy & Jo Brand
03x01
Comedy News Shuffle
The Younger Generation
Gina Yashere
Junk Food
Russell Howard
Airport Security
Frankie Boyle
Charles Clarke
Andy Parsons
03x02
Wheel of News
Bullying
Ed Byrne
Drugs
Andy Parsons
Living with Terror
Jo Brand
The Labour Cabinet
Frankie Boyle
03x03
Topical Whirly Gag
Protest Marches
Russell Howard
The Middle-East
Frankie Boyle
Mugging
Mark Watson
Transport
Andy Parsons
03x04
News Wheel of Death
Telecom
Mark Watson
Bird Flu
Ian Stone
Scotland
Frankie Boyle
Education
Andy Parsons
03x05
Stick or Twist
Immigration
Gina Yashere
Health Scares
Ed Byrne
America
Andy Parsons
Science
Frankie Boyle
03x06
Dara's News Laughter Fun Dial
Air Travel
Russell Howard
George W. Bush
Adam Hills
Religion
Andy Parsons
Sport
Frankie Boyle
04x01
Stand Up and Joke Off
Airport Security
Mark Watson
Leisure
Russell Howard
Britishness
Andy Parsons
Science
Frankie Boyle
04x02
Spin On This
Street Protestors
Russell Howard
Extreme Fundamentalism
Ian Stone
Political Correctness
Frankie Boyle
Health
Andy Parsons
04x03
Rotating News Wheel
Stand Up Challenge Thing
Sport
Andy Parsons
Mahmoud Ahmadinejad
Shappi Khorsandi
Scotland
Frankie Boyle
Etiquette
Fred MacAulay
04x04
Super Casino, Make a Joke Roulette
Parenting
Gina Yashere
The Environment
Frankie Boyle
The Body Beautiful
Russell Howard
Legislation
Andy Parsons
04x05
Wheel of News 2: Wheel Harder
Climate Change
Rhod Gilbert
Alternative Therapies
Jo Caulfield
Terrorism
Andy Parsons
Crime
Frankie Boyle
05x01
NHS Revolving Door of Happiness
Travel
Andy Parsons
Relationships
Michael McIntyre
Men's Health
Russell Howard
Sport
Frankie Boyle
05x02
Spin The News Bottle
Identity Theft
Mark Watson
Terror Threat
Jo Caulfield
Drugs
Andy Parsons
Celebrity
Frankie Boyle
05x03
Dara's Deep Pan Pizza of Fun
National Identity
Russell Howard
Transport
Rhod Gilbert
Health
Frankie Boyle
Drinking
Andy Parsons
05x04
Stand Up Stand Off, to the Death!
(Not Really, Hmm-mm)
Television
Jo Caulfield
Australia
Adam Hills
The Royals
Frankie Boyle
Osama Bin Laden
Andy Parsons
05x05
Jokeo Ono
Transport
Russell Howard
The Olympics
Andy Parsons
Air Travel
Jimmy Tingle
Drinking
Frankie Boyle
05x06
Mock Mock! Who's There?
Britishness
Andy Parsons
London
Ben Norris
Addiction
Ed Byrne
Reality Television
Frankie Boyle
05x07
Harry Potter and the Wheel of News
Alternative Medicine
Andy Parsons
The Media
Russell Howard
Sport
Hugh Dennis
Environment
Frankie Boyle
05x08
Monsters of Mock
Kids
Ed Byrne
The Smoking Ban
Alun Cochrane
Television
Frankie Boyle
Global Warming
Andy Parsons
05x09
It's Only Mock 'n' Drool But I Like It
Advertising
Mark Watson
Charity
Russell Howard
Scotland
Frankie Boyle
Crime
Andy Parsons
05x10
Don't Put Your Nuts on the Road
Homelessness
Russell Howard
Taxis (Cabs)
Ed Byrne
Transport
Andy Parsons
Celebrity
Frankie Boyle
05x11
Northern Mock
Health
Frankie Boyle
The West Country
Russell Howard
North South Divide
Michael McIntyre
Religion
Andy Parsons
06x01
Britain's Got Jokes
Sport
Andy Parsons
Relationships
Lucy Porter
War on Terror
Frankie Boyle
Telecommunications
Michael McIntyre
06x02
News, Spin Me Right
Round Baby, Right Round
Technology
Andy Parsons
Parents
Stephen K. Amos
The Media
Russell Howard
The UK and Ireland
Frankie Boyle
06x03
24 Hour Binge Joking Epidemic
Transport
Andy Parsons
Teaching
Greg Davies
Labour
Frankie Boyle
Childhood
Russell Howard
06x04
This Isn't Just News,
This is a Wheel of News
Relationships
Frankie Boyle
Travel
Russell Howard
Hotels
Mark Watson
Wales
Michael McIntyre
06x05
Aleksandr Solzhenitsyn's Wheel of News
Entertainment
Ed Byrne
Obesity
Zoe Lyons
Environment
Andy Parsons
Celebrity
Frankie Boyle
06x06
The 4 by 1 Joke Relay
US Politics
Andy Parsons
Ireland
Adam Hills
Science
Frankie Boyle
Tabloids
Russell Howard
06x07
Chariots of News
Leisure
Lucy Porter
Technology
Andy Parsons
Animals
Frankie Boyle
British Society
Russell Howard
06x08
Newsercalifragilisticexpialidocious
Health
Andy Parsons
George Bush
Greg Proops
Modern Men
Fred MacAulay
Children
Frankie Boyle
06x09
Danger, Danger, Subatomic Joke Collider
Television
Frankie Boyle
Modern Living
Andy Parsons
Drugs
Russell Howard
Grooming
Michael McIntyre
06x10
Illegally Drilling the Alaskan Joke Reserve
Pensioners
Frankie Boyle
Young People
Ed Byrne
Relationships
Russell Howard
Family
Stewart Francis
06x11
No Wheel of News is Good News
US Politics
Andy Parsons
Parenting
Adam Bloom
Food
Frankie Boyle
Human Behaviour
Russell Howard
07x01
Don't Stop 'Till You Get a Laugh
Parenting
Andy Parsons
History
Frank Skinner
Britain's Got Talent
Frankie Boyle
Human Behaviour
Russell Howard
07x02
Loose Men
Credit Crunch
Andy Parsons
Eating Out
Rhod Gilbert
Extreme Sports
Tom Stade
Family
Russell Howard
07x03
Four Horsemen of the Amockalypse
Britain
Lucy Porter
Sport
Andy Parsons
Education
Russell Howard
The Human Body
Greg Davies
07x04
Mockter Quinn, Medicine Woman
Religion
Adam Hills
Transport
Andy Parsons
Fashion
Alun Cochrane
Etiquette
Russell Howard
07x05
Mock the Nine O'clock News
Finance
Andy Parsons
Sarah Palin
Zoe Lyons
Men's Health
Russell Howard
School
Stewart Francis
07x06
Excess Gaggage
Global Warming
Andy Parsons
Celebrity
Ed Byrne
The Royal Family
Russell Howard
Relationships
Stewart Francis
07x08
Lady Gagag
Politicians
Andy Parsons
Healthy Lifestyles
Seann Walsh
Rage
Russell Howard
Travel
Fred MacAulay
07x09
Colonel Gaggafi
International Relations
Andy Parsons
Dating
Holly Walsh
The Consumer Society
Russell Howard
Health
Stewart Francis
07x10
Thief of Gaghdad
Sleep
Ed Byrne
Health
Andy Parsons
Television
Jack Whitehall
Fitness
Russell Howard
07x11
The Three Mocketeers
The Environment
Andy Parsons
Relationships
Sarah Millican
Happiness
Russell Howard
07x12
President Bagag Ohaha
Travel
Andy Parsons
Young People
Russell Howard
Work
Milton Jones
08x01
Mock You I Won't Do What You Tell Me
Travel
Mark Watson
International Relations
Patrick Kielty
Etiquette
Russell Howard
Health
Milton Jones
08x02
Mock Up Your Daughters
Language
Chris Addison
Home Life
Sarah Millican
Politics
Andy Parsons
Fitness
John Bishop
08x03
Who Will Be the Sheriff of Mockingham?
Nationality
Andrew Maxwell
Family
Andi Osho
Work
Stewart Francis
Shopping
Russell Howard
08x04
Life Is Like a Box of Mockolates
Education
Andy Parsons
Media
Jack Whitehall
Travel
Milton Jones
08x05
Ashley Cole Just Sent
Me a Picture of His Mock
Weather
Chris Addison
School
Kevin Bridges
Joy
Russell Howard
09x01
Mocked out in the
quarter finals as usual
The Coalition Government
Andy Parsons
Accents
Diane Morgan
Family
Milton Jones
09x02
George Osborne's Big
Red Budget Mocks
Nationality
Jarred Christmas
South Africa
Nik Rabinowitz
Charity
Jack Whitehall
09x03
If Only Three People Do This Round
We Can All Mock Off Early
Travel
Chris Addison
Politics
Andy Parsons
Food
Micky Flanagan
09x04
Who Will Win? Let Paul
the Mocktopus Decide
Transport
Seann Walsh
Holidays
Zoe Lyons
Relationships
Milton Jones
09x05
Eamonn Holmes Is Hungry For Jokes
Pets
Ed Byrne
Sport
Andy Parsons
Leisure
Stewart Francis
09x07
Wayne Rooney's Threesome of Fun
Politics
Andi Osho
Security
Andy Parsons
School
Milton Jones
09x08
The Wheels on the Popemobile Go Round and Round
Transport
Miles Jupp
Marriage
Stewart Francis
Parenting
Micky Flanagan
09x09
Mock Me Up Before You Go Go
Festivals
Kevin Bridges
Family
Russell Kane
Jobs
Milton Jones
09x10
Eat, Pray, Mock
Food
Carl Donnelly
Identity
Andi Osho
Young People
Jack Whitehall
09x11
The Apprentice, You're Fired, Ten o' Clock, Wednesday Nights, BBC Two
The Economy
Andy Parsons
Clubbing
Miles Jupp
Health
Jack Whitehall

Series 10

Edit
10x01
There's No Super Injunction In Our Ryan Gaggs
Trust
Seann Walsh
Family
Greg Davies
Travel
Milton Jones
10x02
The Apprentice, You're Funny
School
Diane Morgan
Technology
Chris Addison
Fashion
Micky Flanagan
10x03
Pippa Middleton's Butt of Jokes
Parenting
Ava Vidal
Night Clubs
Seann Walsh
Jobs
Stewart Francis
10x04
Novak Djokeovic
Alternative Lifestyles
Zoe Lyons
Fatherhood
Alun Cochrane
Entertainment
Milton Jones
10x05
J.K. Rowling In The Isles
The Olympics
Andy Parsons
Food
Milton Jones
Culture
Micky Flanagan
10x07
Rise Of The Planet Of The Japes
The Economy
Andy Parsons
The Older Generation
Nathan Caton
Family
Stewart Francis
10x08
David Walliams Swims Through Mock
Kids
Ava Vidal
Health
Miles Jupp
Marriage
Carl Donnelly
10x09
Tinker, Tailor, Soldier, Stand-Up
Fatherhood
Greg Davies
Class
Simon Evans
Fashion
Micky Flanagan
10x10
Chortle Combat
Modern Living
Holly Walsh
Weather
Chris Addison
Careers
Milton Jones
10x11
Thinking Outside The Mocks
Kids
Ed Byrne
Travel
Adam Hills
Romance
Stewart Francis
10x12
Quantitive Teasing
Television
Andi Osho
Hospitals
Miles Jupp
Travel
Milton Jones

Series 11

Edit
11x01
Angela Smirkel's Comedy Bailout
Finance
Andy Parsons
Health
Nathan Caton
Relaxation
Chris Addison
11x02
Happy Birthday, Paul MockCartney
Retail
Jo Caulfield
Health
Carl Donnelly
Relatives
Milton Jones
11x03
Shut Your Loophole
The Internet
Zoe Lyons
Travel
Chris Addison
Relationships
Gary Delaney
11x04
Wheel Of Cruise: Marriage Impossible 3
Animals
Ava Vidal
Nationality
Milton Jones
11x05
Fifty Shades Of Mock
Money
Andy Parsons
Technology
Josh Widdicombe
Employment
Milton Jones
11x07
Oscar Pissed-Offius
The Police
Andy Parsons
Dating
Andi Osho
Family
Stewart Francis
11x08
Dara-Lympics
Holidays
Josh Widdicombe
Communication
Chris Ramsey
Family
Milton Jones
11x09
Titty Titty Ban Ban
Sport
Andy Parsons
The Internet
Jo Caulfield
Family
Gary Delaney
11x10
Look, It's PC Pleb
Catering
Josh Widdicombe
Smoking
Joe Wilkinson
School
Milton Jones
11x11
Wakey Wakey, Rory MockElroy
Parenting
Ed Byrne
Celebrity
Gary Delaney
11x12
Live And Let Mock
Identity
Josh Widdicombe
Nationality
Katherine Ryan
Transport
Milton Jones

Series 12

Edit
12x01
The Great Gagsby
Health
Andy Parsons
Parties
Josh Widdicombe
History
Milton Jones
12x02
It Must Be Something I G8
Showbiz
Miles Jupp
Night Clubs
Nathan Caton
Relationships
Gary Delaney
12x03
wheel.i.am
Science And Technology
Andy Parsons
Charity
Josh Widdicombe
Education
Gary Delaney
12x04
Rolling Stone Gathers No Mocks
Parenting
Ava Vidal
Science
Chris Addison
The USA
Milton Jones
12x05
Mock The Creek Without A Paddle
The North South Divide
Hal Cruttenden
The Home
Josh Widdicombe
12x06
Graduating From Mocksford University
Travel
Chris Ramsey
Class
Rob Beckett
12x07
School Of Hard Mocks
Consumerism
Andy Parsons
Food
Rob Beckett
Jobs
Stewart Francis
12x08
Set Your Phasers To Fun
Building
Hal Cruttenden
Childhood
Gary Delaney
12x09
Unexpected Item In The Gagging Area
Football
Hal Cruttenden
School
Milton Jones
12x10
Gag Theft Auto 5
Education
Romesh Ranganathan
Relationships
Gary Delaney
12x11
Can You Smell What The Mock Is Cooking
Childhood
Josh Widdicombe
Travel
Milton Jones

Series 13

Edit
13x01
The Archbishop Of Banterbury
Going Out
Romesh Ranganathan
Romance
Milton Jones
13x02
#WheelOfNews #Funny #LOL
Family
Rob Beckett
Ageing
Sara Pascoe
Shopping
Gary Delaney
13x03
Mock Them Up And Throw Away The Key
Food
Josh Widdicombe
Health
Angela Barnes
Animals
Romesh Ranganathan
13x04
Gag Of Thrones
Holidays
Rob Beckett
Marriage
Hal Cruttenden
13x05
Tour De Frahahahahahahahance
Dating
Tiffany Stevenson
Health
Gary Delaney
13x06
Ich Bin Ein Berwinner
Drinking
Zoe Lyons
Communication
Milton Jones
13x07
Jock The Week
Weather
Josh Widdicombe
Transport
Gary Delaney
13x08
Mock Aye, The News
Technology
Sara Pascoe
Nationalities
Gary Delaney
13x09
English Jokes For English People
Education
Romesh Ranganathan
Family
Milton Jones
13x10
UKIP Me All Night, Baby
Adventure
James Acaster
Crime
Josh Widdicombe
13x11
Welcome To The Glib Dem Conference
Food And Drink
Zoe Lyons
Home
Milton Jones

Series 14

Edit
14x01
I Can't Believe It's Not Blatter
Interviews
Matt Forde
Britain
James Acaster
14x02
Third Mock From The Sun
Relationships
Ellie Taylor
Entertainment
Milton Jones
14x03
Your Grexits Are Here, Here, And Here
Parties
James Acaster
Childhood
Gary Delaney
14x04
It's Getting Hot In Here So Take Out All Your Jokes
Magazines
Tiffany Stevenson
Parenting
Romesh Ranganathan
14x05
Greece Frightenin'
Exercise
Zoe Lyons
Work
Milton Jones
14x06
Grand Slam, Thank You Ma'am
Health
Ed Gamble
Growing Up
Rob Beckett
14x07
My Mockshake Brings All The Boys To The Yard
Relationships
Ed Gamble
Medicine
Milton Jones
14x08
You Gotta Be Corbyn It To Win It
Home Life
Nathan Caton
Diet
Ed Gamble
14x09
Don't Go Bacon My Heart
Leadership
James Acaster
Health
Gary Delaney
14x10
Is There Laugh On Mars
Technology
Josh Widdicombe
Food
James Acaster
14x11
G.W.A

. (Gaggers With Attitude)

Parenthood
Ed Gamble
Transport
Milton Jones

Series 15

Edit
15x01
I'm So Brexcited, And I Just Can't Hide It
The Movies
Nish Kumar
Work
Gary Delaney
15x02
Everything I Do, I Do It For EU
Going Out
Rob Beckett
Food And Drink
James Acaster
15x03
Mocky McMockface
Travel
Miles Jupp
Music
Milton Jones
15x04
Nice To EU, To EU Nice
Jobs
Rhys James
Technology
Gary Delaney
15x05
Like A Corbyn, Touched For The Very First Time
Health
John Robins
Moving House
James Acaster
15x06
Netflix And Chilcot
Politics
Loyiso Gola
Jobs
Milton Jones
Community content is available under
CC-BY-SA
unless otherwise noted.