The fifth episode of the eighth series was first broadcast on the 18 February 2010.
Guests
[
]
Rounds
[
]
Headliners
[
]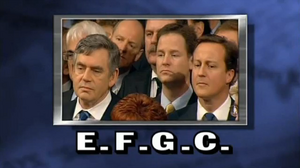 E.F.G.C. – Election Fever Grips Country

CA: Everyone Frowns at a Ginger Cat
RH: England's Finest Gay Choir
HD: Everyone Finds Gordon Creepy
EB: Eyes Forward, Gobs Closed (Photographer's instructions)
KB: Ecstasy Fiends on Gigantic Comedown
RH: Ecstasy, Frisky Goths and a Camcorder (What Nick Clegg needs for a big night)
AP: Excited Fans Gather for Coldplay
HD: Everyone Forgets...Geoffrey Clegg?
AP: Election Fever, "Go Compare!"
EB: Etonian Fondles Gordon's Crotch
CA: Piers Morgan Is a Twat
Ashley Cole Just Sent Me a Picture of His Mock
[
]
| | | |
| --- | --- | --- |
| Weather | School | Joy |
| Chris Addison | Kevin Bridges | Russell Howard |
If This Is the Answer, What Is the Question?
[
]
Sport
Answer: 17 Days
Question: How long were the winter olympics?
Question: How long does it take Warwick Davies to change a lightbulb?
Scenes We'd Like To See
[
]
Topics
Unlikely things to get through your letterbox.
Things you wouldn't hear at the winter olympics.
External links
[
]